Tract and Parcel Maps

Tract and parcel maps are maintained by the Santa Clara County Surveyor's Office. The Surveyor's Office has developed an interactive tool to help you find a tract or parcel map. The instructions below are provided to help you use this tool.

How to Find a Tract or Parcel Map

Use the County Surveyor's Record Index Interactive Search Tool.

1.Open the tool by clicking on this link: Record Index Interactive Search Tool

2.Enter the Assessor's Parcel Number (APN) or property address (leave out Drive, Avenue, Way, etc) into the search bar at the top left corner of the map. While entering your information, you will see a drop down list appear with several APNs or addresses starting with the same number or letter. Select the desired APN or address.

3.A numbered pink dot appears near the property location on the map. In this example: 351 M is the Map Book Number, and 15 is the Page Number. You may need to zoom out on the map if you do not see any pink dots.
4.Click on pink dot to open the Record Map.
5.Click on the "Click here" link seen in the window below. This opens the
Santa Clara County's Department of Planning and Development Counter Maps web page
. It may take a moment to load.
6.Enter the Map Book Number and Page Number in the respective data fields as shown below.
7.Click on the "View" button to view the map.
8.In some cases, the title sheet rather than the map will display. If this happens, return to the Counter Maps window. In the Page Number data field, enter the next page number. In this example the original Page Number input was 15, so on the second try, enter 16. If your parcel is not on the tract map, return to the interactive map and find the next closest Map Book and Page numbers that surround your property and repeat steps 4-8.
The following are examples of types of pages that may appear:
Example of a title sheet for a tract map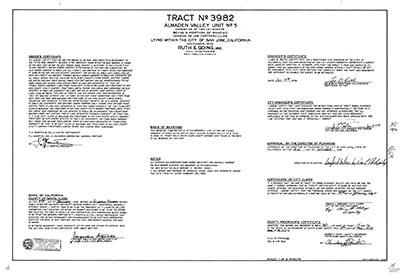 Example of a tract map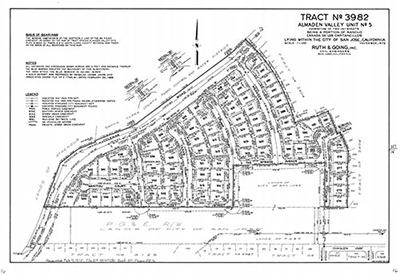 ---
Tract Profile